Join us this Advent Season as we anticipate the birth of our Savior!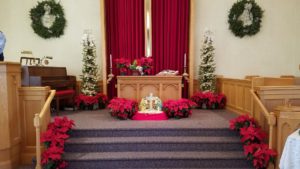 The following below is the activities for our Advent Season. We have planned special music each week along with Advent Wreath candle lighting and seasonal hymns. If you are looking for spiritual motivation and seasonal mood altering these services are sure to excite your imagination!
Join us for fellowship after each worship experience!
December 1 – 1st Candle is Purple, The Prophet's Candle, the Choral Choir performs "Tiny King"
December 8 – 2nd Candle is Purple, Bethlehem's Candle, the Bonnie Kegler performs "Angels We Have Heard on High"
December 15 – 3rd Candle is Pink, The Shepherd's Candle, Darla Dernovsek & Jakob Snow perform "What Child is This?"
December 22 – 4th Candle is Purple, The Angel's Candle, the Hand Bell Choir performs "Shepherd's Air"
December 24 – Christmas Eve,  Christ Candle is White, performances by Darla Dernovsek/Let it Be, Reverend Herb Saunders/Joseph, and Iselin Hegg/Mary did you know?
We wish you a very Merry Christmas and a season filled with Joy!