From the Pastor-January 2022
January 2022
Pastor's Message: Glorify God and Enjoy Him!
(This is mostly a reposting from January 2021)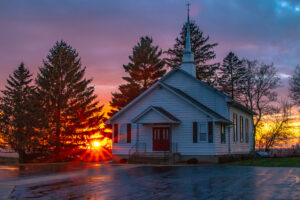 With the hustle and bustle of the Christmas Season behind us we once again enter the enduring winter period where it can seem like the deepening cold and accumulating snow go on forever. Many of us feel captive to our homes and grow restless in wanting to get outside and enjoy some sunshine and warmth. Experience proves that we need to buck-up and take it one-day-at-a-time. In this fashion, "life is a cinch if we take it by the inch", and then we slowly get through it. Besides, these long winter days and the challenge before us builds character!
January, especially, can produce a sort of "sturm und drang" where many feel agitated and frustrated and spring cannot come soon enough. A good elixir for all of this can be drawing nearer to our Lord. Perhaps this can be at the top of our new year's resolution lists. Apostle Paul wrote in 1 Corinthians 10:31 – "Whatever you do, do all to the glory of God". Yet, how many of us do this?
Pastor David Jeremiah wrote in his daily devotional, Quest, that the Westminster Catechism addresses an initial question that is: "What is the chief end of man?"  The panel of 120 ministers assembled answered the question this way: "Man's chief end is to glorify God, and enjoy him forever."  Simple and profound and yet how many of us make a go of this ambition?
Resolve in 2022 to reflect on your own attempts to glorify God in everything you do and make distinct moves in that direction. The Bible promises us that the more we honor our God the more blessings we will have in our lives. And that is how we enjoy Him!
You will show me the path of life; in Your presence is fullness of joy; at Your right hand are pleasures forevermore.
Psalm 16:11
As we enter another period of "Covid Recess";
Take good care of yourselves and work to stay healthy.
Remain steadfast, faithful, and hopeful!
See you soon Christian Brothers and Sisters and children of God!
In Christ,
Pastor Dave