From the Pastor-November 2021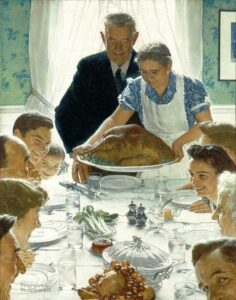 November 2021
Pastor's Message: Grant me, O Lord, a sunny mind!
And here we are again: that time of year with long shadows and even longer nights. The earth has tilted away from the sun and we are transitioning from autumn to winter. Nothing new to those of us who have lived on this blue planet for awhile! We know the drill and we know how to endure this now familiar dance. Still, this season is trying for many of us since the sun becomes a precious resource and cloudy days can last longer than we like.
We all know the month of November where falling leaves give way to falling snow this month. November, the month of much darker evenings, colder nights, and barer trees can be dismal and bleak but we must not surrender to a dampening of the spirit in November. While the summer blooms are gone now, it is only for a time. They will be back! We must persevere!
See if you can detect some optimism in this poem about November by Emily Dickinson.
November by Emily Dickinson
Besides the Autumn poets sing,
A few prosaic days
A little this side of the snow
And that side of the Haze.
A few incisive Mornings,
A few Ascetic Eves,
Gone — Mr. Bryant's "Golden Rod",
And Mr. Thomson's "sheaves."
Still, is the bustle in the Brook,
Sealed are the spicy valves;
Mesmeric fingers softly touch
The Eyes of many Elves.
Perhaps a squirrel may remain,
My sentiments to share
Grant me, Oh Lord, a sunny mind,
Thy windy will to bear!
Dickinson ends her poem with some positivity, some hope, that through God we can retain a "sunny mind". Indeed, we will all need a cheery disposition in order to bear the impending winter storms and windy will of our creator. But we know that we only need to "hunker down" for a few months and things will get better. As Christians, we should also know that all storms end, all rain will stop eventually, and God will see us through. Our great creator never promised that there will not be storms, that there will not be tough periods in our lives, but he did promise that he would be with us as we weather perilous times. We should be thankful for that! We should be grateful for his steady presence in our lives! In this month of Thanksgiving enjoy this period "this side of the snow and that side of the haze" and keep a sunny mind!
And my God will meet all your needs according to the riches of his glory in Christ Jesus.
-Philippians 4:19
Take good care of yourselves and work to stay healthy. Remain steadfast, faithful, and hopeful!
See you soon Christian Brothers and Sisters and children of God!
In Christ,
Pastor Dave