From the Pastor-October 2021
October 2021
Pastor's Message: October's Full Experience
This has been an unseasonable fall season so far with much warmer temperatures than normal. The autumn color seems to be delayed somewhat also due to warm nights and no frost as of yet. But rest assured, the earth has tilted away from the sun yet again as indicated by shorter daylight hours. This is all by design as Father God created this world for us to live in and to enjoy. October is one of his best creations at least for us in the northern climates because of the stunning fall colors.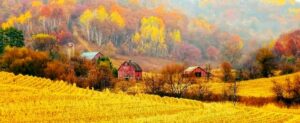 October is full of memories for most of us and observations for the keen on-looker. Yes, October is full of opportunities for eye and ear. This poem by David Baker captures some snapshots and sound bites of October to contemplate and consider.
Neighbors in October by David Baker
All afternoon his tractor pulls a flat wagon
with bales to the barn, then back to the waiting
chopped field. It trails a feather of smoke.
Down the block we bend with the season:
shoes to polish for a big game,
storm windows to batten or patch.
And how like a field is the whole sky now
that the maples have shed their leaves, too.
It makes us believers—stationed in groups,
leaning on rakes, looking into space. We rub blisters
over billows of leaf smoke. Or stand alone,
bagging gold for the cold days to come.
Baker even mentioned the smells of October to make the experience complete! Our maker and creator of our world wants us to enjoy His creation and savor our life experience. Chapter 12 of the Book of Job tells us that beasts, and birds, and bushes of the earth will teach us that the hand of the Lord is responsible for these life lessons. Lets us rejoice as Christians the beauty in this world and all that He has given us! God is great and October seems to be glorious month where he provides his exclamation point!
Let heaven celebrate! Let the earth rejoice!
Let the sea and everything in it roar!
Let the countryside and everything in it celebrate!
Then all the trees of the forest too
will shout out joyfully
Psalm 96:11-12
Take good care of yourselves and work to stay healthy. Remain steadfast, faithful, and hopeful!
See you soon Christian Brothers and Sisters and children of God!
In Christ,
Pastor Dave