Eagle Scout Twins soar to new heights!
Jakob Snow, on the left, and Reidar Snow, have both achieved the highest Boy Scouts award of Eagle Scout during 2019. Their hard work and dedication earned them 21 merit badges for this award that is rare to achieve. Since 1912 there have been only 2.5 million Eagle Scout awards given and this amounts to a mere 4% of all scouts over the years. Furthermore, the Snow Twins are the 4th pair of twins to achieve this illustrious award from Milton Troop 417.  Congratulations are also in order for Troop Leader Bill Whitford and Assistant Leader Tammy Whitford!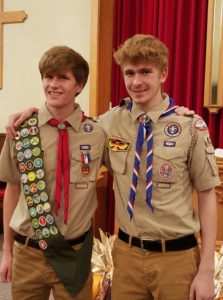 70 years of marriage!
The Albrechts of Milton have experienced love and laughter and ups and downs and most of all have been blessed by God! Married on September 3, 1949.
Cheers to this young-at-heart couple!      God bless Betty and Bud!